Or, at least that's what the brochure calls it. What it really is is a super bad ass tatable gaming monitor which displays tri-res, high-def and has a crazy fast refresh rate. To show it in relative terms, I think it looks better than my Astro City monitor. For reals.
I started this side business of buying and selling games and wanted to get myself a little present for doing well in my first month, so I started looking for a gaming monitor that I could tate to play all my Sega Saturn and PS2 STG's on that would look better than the not-really-tateable 13" TV I use in my bedroom.
Being me, I had to find out what the ultimate monitor was and caught a bunch of threads on shmups.forum about the NEC XM29 series. johnny5 sang its praises and a few other peoples talked about how easily it tated with its industrial strength casing and how the remote had a degaussing button, as well as buttons for horizontal and vertical picture adjustment and all four imputs selectable with just a button push.
It is usually used for video editing, conference room presentations and work enviornments where perfect picture clarity is key. Yup, this thing definately makes a good video game monitor.
I started looking on craigslist, figuring I may have to settle for something else or traveling a long distance to get one, and typed in 'professional monitor' in craigslist Chicago and realized sometimes it pays to live in a big city! I found an NEC XM29 Plus, exactly what I was hoping for in the suburbs of Chicago for crazy cheap, with the remote and all the paperwork in next-to-new condition. I starred at the monitor for a second, took another second to laugh and call him up, arranged pick-up the next day as we were in the middle of a blizzard and picked it up the very next day.
The imputs for component cables are BNC connectors, which is great for video editing stuff, but Sony, Microsoft and Nintendo still use component cables, so I found BNC to Component connector plugs at Micro Center for $4.99 a pop, bought two and headed home. It also has 2 connections for VGA, S-Video and RGB, not to mention hook ups for external speakers and dip switches that, among other things, allow you to turn off the internal speakers.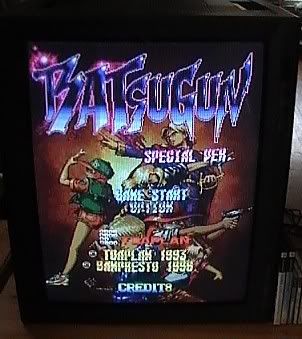 I tested Batsugun on my Saturn and f**k me silly, it's gorgeous. Like I said, this thing is possibly better than my Astro City, certainly the best gaming monitor I have ever seen. I meant to try DoDonpachi on it, but got sucked into Batsugun, hence the recent high score activity.
I did go out and get a Japanese PS2 and a copy of ESPgaluda and have started playing that again, trying to drum up a high score for Cave-STG.com's monthly tourney. It's fantastic, a really perfect port, which is totally amazing. It was the first Cave pcb I bought and sold it to try other stuff out and I'm glad I have the exceptional PS2 port to play on now as I never 1CC'd the pcb. I'll be working on it now, that's for sure.
I'm still totally blown away by the picture on this thing and the fact that I found one locally, in perfect shape, with all the paperwork for waaaaaaaay less that I ever thought possible is just stupid. I've gotten lucky on my finds on a few occasions and I'm really happy to have this in my gaming stable.
For anyone contemplating the purchase of this to go with a supergun or just a console set up - go for it. This 29" tri-sync monitor is just as good as an arcade monitor - if not better, no doubt. Truely and totally worth it.