Rather than compile some boring list of my favorite games from 2008, most of which I have probably blogged about anyway, I figured I would try something a bit different - a 'best stuff of' post chronicling the things I enjoyed the most during the past year. It'll give me a chance to shine a light on things that I'm into that aren't video games. Well, not all of them anyway.
Best Stuff Top Ten
10.
Valis77 on youtube.com
- So, this is a strange one. After getting into the Valis series, I cought some of his videos on youtube where he does some of the 'Let's Play' series and I became totally fascinated by the guy. He's awkward, but in a good way, he's pretty good at gaming, he can translate some Japanese and he does food reviews as part of the 'Let's Eat' series, which I never knew existed, where you can watch him eat Long John Silvers. Seriously. He also has 2210 videos on youtube.com. 2210. Wow.
9.
Egyptian Lover: Greatest Hits
– Egyptian Lover is not a new discovery, but he just dropped his Greatest Hits album and it's hot. Having been a fan of electro since sometime in 1985, I have always liked his tracks and they still seem fresh. It's kind of like how 2001: A Space Odyssey still seems futuristic, even though it's 2009 now.
8.
vs. Castlevania
- Ok, ok, so this one is a game, but it's a game that I never thought I'd own and I'm happy to say now I do. Playing Castlevania on a dedicated vs. cabinet is just the shit.
7.
Porsche Cayman
- My pops is a big Porsche nut and car fanatic, as am I, and recently traded in his 2007 Porsche GT3 for a Porsche Cayman. I was just a bit bummed to tell the truth when he told me. I mean, the GT3 is the dogs bollocks and I was so stoked on that car I dreamt about it. Twice. But the Cayman is so cool in its own right that I hardly miss the GT3. It's the perfect combination of engine, handling and Porsche fit and finish. I was just down to see him over the holidays and I got a chance to check it out. Now I need to find a way to afford one for myself...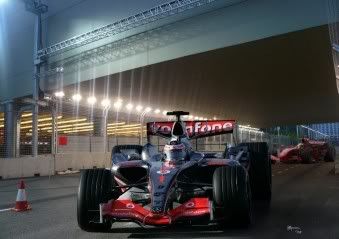 6.
2008 Formula One Championship
- If you weren't a fan before this year, now was the time to tune in. It was a tight battle all year with McLaren, Renault, Ferrari et al, with Scuderia Toro Rosso even looking strong and the race for the championship went down to the last lap of the last race of the season and went to the Englishman Louis Hamilton, in only his second year as a pro driver.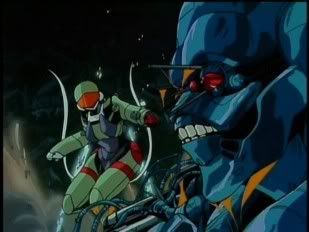 5.
Bubblegum Crisis/Snatcher/Blade Runner
- I watched/played all of these around the same time period and they are all so perfectly realized that I wished there were a dozen more series/games like them. Cyberpunk certainly has its golden moments.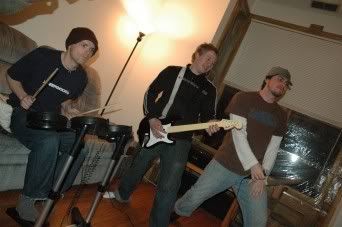 4.
Rockband 1 & 2
- Another game, I know, but I haven't blogged about it. My roommate, George is huge into the game and I am as well (though way less talented at it) and he holds Rockband parties every month or so, which have become an absolute blast with lots of beer, cheering and 20 people all letting out their inner Bon Jovi.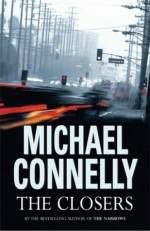 3.
Michael Connelly (author)
- I read alot and I'm always looking for fun detective/crime novel authors I never read before. I took a chance on Connelly, picking up a novel earlier this year and I have to say, he's fantastic. His detectice, Harry Bosch is worldly, but not overbearing and tough and the writing is smooth and easy with great plot lines.
2.
Vans/W-Taps collab high-top
- I'm also a huge sneaker geek, and Vans hit it out of the park with this collab, blue/black and stunning. I never tire of wearing them or just looking at them with a glass of Hennessy in my hand.
1.
Dupont Gatsby Intersected Lines, Silver Plate Lighter
- Having been a regular cigar smoker for the last ten years, I have a thing for the nicer acutraments that go with the hobby. My father bought this lighter a few years back when he was a regular cigar guy as well and has since given it up. He gave me this lighter when I was down for X-Mas and it may be the most stunning accessory a guy could own. So beautiful, so classy and the signature Dupont 'ping' never gets old.
Thanks to the regular readers of my blog and to all of you I've met this year through gaming or otherwise. Happy New Year to you all!