I have become a huge fan of Toaplan's stuff recently, playing Twin Cobra, Tatsujin and many of their later titles, with the seminal Batsugun rounding out the fantasticness. Having played V-V in mame, I really enjoyed it and wanted to source a pcb and finally found one.
The game is excellent, with a Gradius like power-up system or the option (once you enter a code) to play 'Bomber Mode,' which is actually the version the the US got as Grindstormer.
I have a handful of credits in on it and the game gets brutally difficult pretty quick. There's some form of rank in the game, but it doens't seem to make that big of a difference through the 3rd stage, which is as far as I can get on a single credit.
The sounds and music are also excellent and simple, definately old school, but great nonetheless. I'm looking for ward to putting more time into this after the Chicagoland Winter Carnival '09, which happens this Saturday.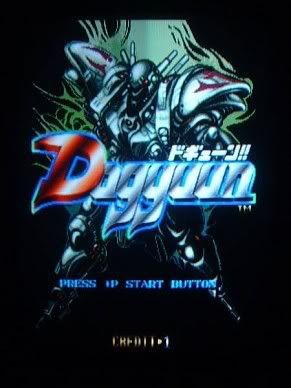 Dugyuun is one of the later Toaplan titles and as such it has awesome artwork and you can definately see the progression towards making Donpachi. The game itself is really fun but also super hard, with a 'one option' power-up system that puts you at full power on one shot pick up. There's also a slew of shot types with different homing, laser and streaming electricity shots to choose from. I have only played a dozen or so credits, but it does take some getting use to.
Both games are pretty deep and alot of fun. There should be many hours of STG happiness ahead.