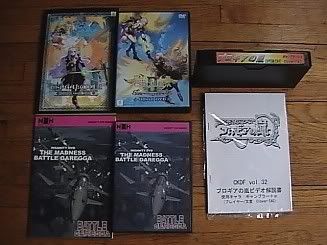 Picked up a bundle of stuff from Japan recently which included all three of these superplays.
The INH Battle Garegga DVD is just sooooooooo awesome. gunbird18 let me borrow his copy a while back and I watched it a ton, which is pretty much what stoked me on this game. It's impressive that there are four seperate runs on it - Gain, Myamoto and two of the regular ships. The booklet is filled with some good info, showing what your shot looks like in each powered up state for each ship and other goodies. It's isn't in color, though and lacks any impressive artwork like the Ketsui and DOJ BL booklets.
I also picked up the Espgaluda II DVD set and just as you would imagine, its awesome. Cave goes all out when they put out their DVD sets and this one is no exception. Tons of good art in the book, three DVD's worth of material and great production.
Besides official DVD's, there are a number of different doujin releases out there that are actually pretty good, many using the same top tier Japanese players seen in the official releases. The CKDF Progear VHS is no exception. The player is Clover-TAC, who also destroys Mushihimesama Futari Maniac on the official Cave DVD set. It's an great run and the quality of the VHS is pretty amazing. The booklet is just a stapled together, mostly text run through of the game, so nothing I can sink my teeth into, but the VHS tape is so impressive, I could care less.