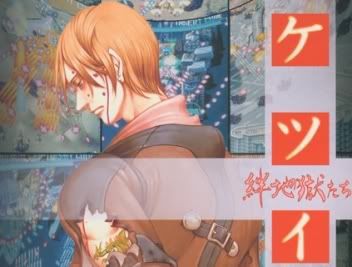 I just reread the entire 15 page Ketsui high score thread over at shmups (
http://shmups.system11.org/viewtopic.php?t=6382&postdays=0&postorder=asc&start=0
) and it really got me stoked to work on my summer goal of a 100+ mil score and a first loop clear.
First of all, there are a number of 2nd loop scores on the board, so it makes you feel like there is a possibility of actually getting there when you read about so many people actually doing it.
Second, MMM, Mr. Monkey Man's progress is stellar. If there were a documentry about Ketsui players, this guy would have a starring role. He gets the game and two months later, completes the first loop, then works the second loop for insane points, ending with a 2-all of 373+ mil. All while playing on a 14" monitor and a joypad. Sick. Check the link in the 'Gaming Links' sidebar for his webpage and access to the 373 mil video.
The high score thread makes good reading, especially since it starts back in 2005 (it is the new thread after all) and you can see how some of the more recognized players on the shmups and Cave-STG boards have come along. It helps put things in perspective for players like myself who have only been playing modern shmups for less than a year. There a lot of encouraging words for the players from some of the best western players and lots of good hints, tips and techniques to work.