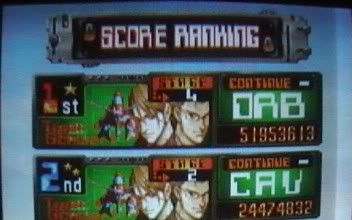 I have been playing ESPrade exclusively for a week straight and I ended up getting burned out on it. I decided to take a break to play Ketsui.
I recently got the 'The Second Apocalypse' INH superplay DVD from a guy on the shmups boards and watched it a few times last night, and I was just blown away at the runs. It's really amazing and I highly recommend tracking it down if you are a Ketsui fan or junkie.
I played about five credits or so and got to my new high score of 51,953,613 and almost made it to the end of the 4th stage. I have no really good patterns for the 4th stage, so I made it into a bit of a bomb fest, but you could probably tell that by my score.