I woke up in the morning, ready to go set some world records at a blistering pace, but after looking at the high score tables, I realized I wasn't going to better my place in the standings without considerable effort and I didn't have the time for that. I also realized that I was having more fun hanging about, taking pictures and cavorting with the players who were still dueling with each other than I would working one title until the last moments of the tourney, eschewing everything else in search of a better score.
Up until the last day, Donald Hayes and Mark Boolman were playing each other at Nova 2001, constantly outdoing each others score until the games started to hit marathon pace. Donald blew the old record out of the water with a final score of 1,735,270, a staggering result with a game he had only played a few times before the tourney.
I had given it a go a few times, but even when I scored into the 480K range, I found my brain needing some more time to learn, not having the gaming tool box to draw from for late level challenges that both Donald and Mark have. Not being able to beat either of them didn't bother me though, because I got the chance to watch them play. A number of other players also took to coming over and watching a few rounds in between their games, making for some good gaming comradery and conversation, truely highlighting the fun and friendly nature of these types of contests.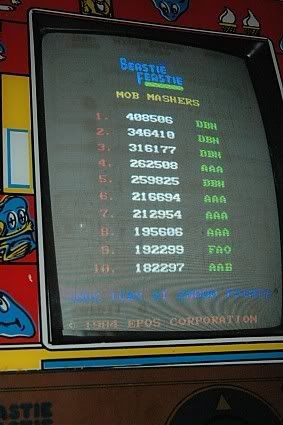 The best part of the event for me was the love Beastie Feastie got from the gamers. I'm a huge fan, obviously, but a considerable number of guys turned in scores on it and watched each other play, getting tips and learning tricks from Donald and myself. I didn't break 400K, or 300K for that matter, holding my final score at 270K, which I'm plenty happy about. Donald, however, totally killed it with a final score that was set after the event of 408,506, setting the first world record on a dedicated Beastie Feastie.
It was an honor to see such great gaming from all the attendees, especially Donald Hayes, who is not only a tremendous player, but a helluva nice guy. He walked with first and Fred Ochs took second while Jason snagged third. I ended up in fourth, out of the money, but no worries. I had so much fun, I really didn't think too much about the cash, especially when I ended up picking up a vs. Castlevania pcb from Jason - a favorite classic Nintendo title and very sought after game for my collection. Just watching and capturing him set an 11 mil score of Turbo Sub was worth the trip alone, not to mention all of the other outstanding scores and multitudes of world records set.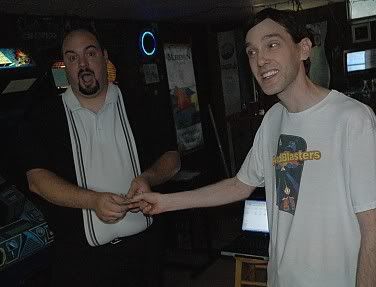 I did happen to catch first place in Bomberman Panic Bomber, a puzzle game that was developed by 8ing for the Neo Geo, but that was mostly because the other gamers weren't into the puzzle titles. I had a few good scores for the event when all was said and done, including a second place only to Donald on Beastie Feastie, second on Gururin to Mark Boolman and second on Turbo Sub with 4.7 mil, beating both Donald and Fred, but nowhere near the new world record Jason set at 15,190,500, but still a result to be proud of.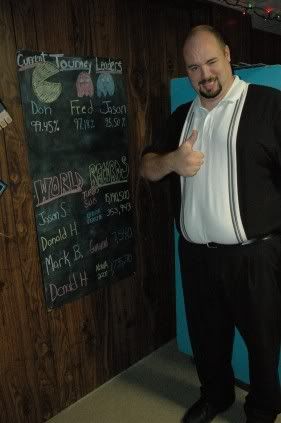 I have to thanks all of the gamers for puting on such a great show and especially Jason and Angela Spindler, two very gracious hosts who treated me like one of the family while I was there.