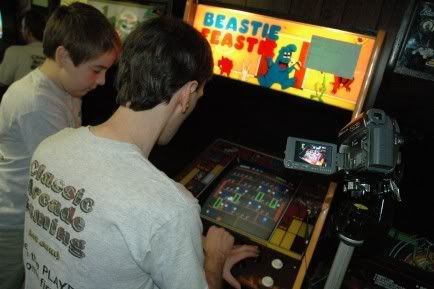 After spending most of Friday night pulling out games from the walls and verifying dip switch setting as a favor to Jason Spindler and Mark Alpiger, the owner of the J-Cade and the moderator of CAGDC respectively, I was itching to play some games. The line up for this tournament was excellent, with a lot of rare titles like Turbo Sub and my Beastie Feastie, as well as Nova 2001 by Universal and Journey, complete with cassette deck blasting out tunes every time you finished the five stages in the game.
I knew that this tourney would be really hard as Donald Hayes and Jason Spindler pretty much ruled each of the titles we would be competing on. But just like the last tourney, I wanted to go into it not worrying about score, just forcused on having a good time.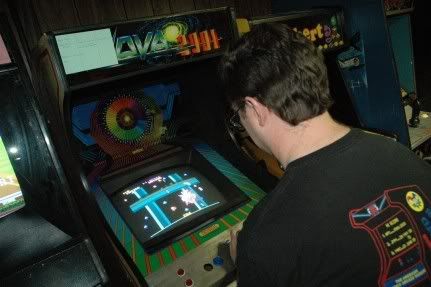 I set some good scores early in the day, including a 380K on Nova 2001, which the previous best on was something like 270K, so I felt pretty good. Unfortunately, it didn't end up lasting long. Between Mark Boolman and Donald Hayes, they drove up the score from 400K to 750K to an unbelieveable 952K. Most of us just sat back and smiled, watching some really great players do their thing and commenting about the enevitable hand cramps from the button top joystick.
I did set a pretty good score on Beastie Feastie, but I'm really going to give it a good run tomorrow and try and hit 400K, but I'll be happy with a 350K score. Donald hit a 320K score and keeps plugging away at it, probably even playing it as I type this, 2 hours from the end of Day 1, so I'll be really happy if I beat him.
Of the contest titles (Arabian, Panic Bomber, Beastie Feastie, Nova 2001, Gurrurin, Popeye, Tron, Turbo Sub, Centipede, Galaga, Roadblasters, Dr. Mario and Journey), I really only have some experience with a few titles, so I'm not expecting to make a late run for the money. There are a number of really good players here like Mark Boolman, Jason Spindler, Fred Ochs and of course, Donald Hayes. As it stands now, I am in fourth and have some work to do to try and snag third, but assuming that Donald gets first, Jason second, third will be pretty hard to wrestle away from the other guys. But I'm definately going to try.