I'm so stoked on the cab, I can't even begin to tell you. I have been after a vs. cab in which to house my vs. Castlevania pcb for a little over a year and even started looking at vs. cabs 5-10 hours away, just so I could get it up and running.
A little while after I almost pulled the trigger on getting a vs. The Goonies in Iowa (about ten hours round trip), I found this vs. cab on Craigslist Milwaukee about an hour and a half away and pounced on it like a fat man on a free cupcake.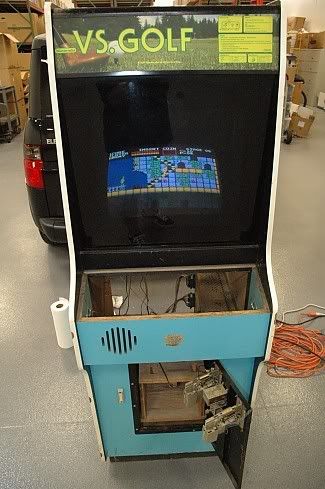 It started life as a Donkey Kong and became a vs. Golf and now lives on as a vs. Castlevania. It was in amazingly good shape and had very few problems: the marquee light was burnt out, two microswitches missing from the controls, few cigarette burned buttons, cracked t-molding. All are easily fixable and I did fix a number of them last night when I spent four hours stripping the parts out of the cab, cleaning it and reassembling it. Those of you who know me rather well, know I can be a bit anal. I even rebuilt the buttons for the cp - ones which I will be replacing shortly.
The monitor is in excellent shape, the cab has no water damage whatsoever, both coin mechs work, all the trim bits are in the cab, the bezel is in near mint condition and the side art is 95% there.
I started to take it apart and wanted to make sure the board fired up and popped it into the cab and viola - it fired up right away. The speaker sounds great and actually throws out some bad ass bass that makes the game sound even more awesome (if that's even possible).
Last night, I played about a dozen games as I was cleaning and making trips back and forth to Home Depot to replace hardware and other bits and loved every second of it. Playing with a joystick is awesome and allows you even greater control over Simon.
I played one game this morning after getting to work and 1cc'd it with Dave watching, only dying once on Dracula, who can kill you in three hits. Brutal.
I do have a vs. The Goonies kit on the way for it and vs. Golf is actually one of my secret favorite NES games, so that will definately get some play time as well.
Thanks to Linda who contributed to the vs. cab fund for my b-day present, Jason (shackleford) for the vs. Castlevania pcb and Scott over at Hyperspace Arcade Entertainment (http://www.hyperspacearcade.com/) for the mint NOS marquee.